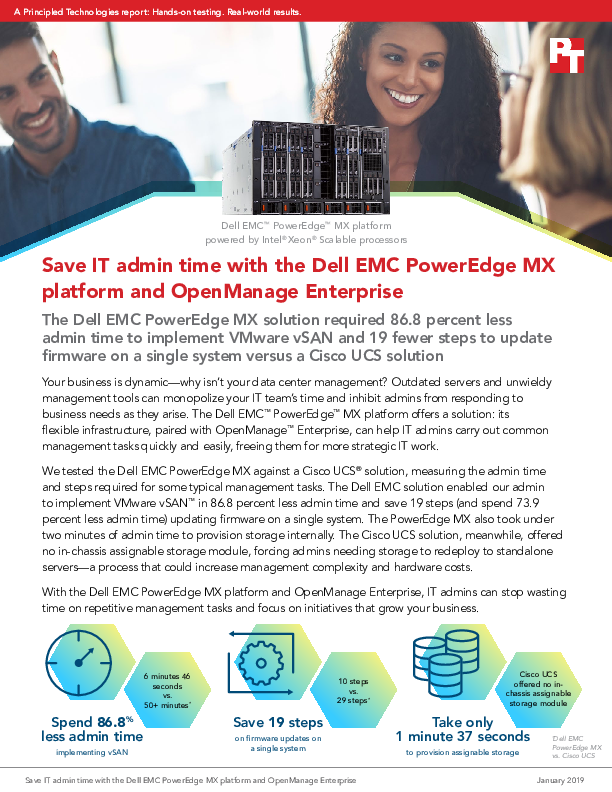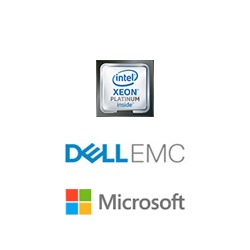 Auteur: Dell Corporation Limited
Format: livre blanc
Taille: 1,36 Mo
Language: Anglais
Date: 02.10.2019
Save IT admin time with the Dell EMC PowerEdge MX platform and OpenManage Enterprise
We tested the Dell EMC PowerEdge MX against a Cisco UCS® solution, measuring the admin time and steps required for some typical management tasks. The Dell EMC solution enabled our admin to implement VMware vSANTM in 86.8 percent less admin time and save 19 steps (and spend 73.9 percent less admin time) updating firmware on a single system. The PowerEdge MX also took under two minutes of admin time to provision storage internally. The Cisco UCS solution, meanwhile, offered no in-chassis assignable storage module, forcing admins needing storage to redeploy to standalone servers—a process that could increase management complexity and hardware costs. With the Dell EMC PowerEdge MX platform and OpenManage Enterprise, IT admins can stop wasting time on repetitive management tasks and focus on initiatives that grow your business.
Learn more about Dell EMC powered by Intel® Xeon® Platinum processor.
Windows Server: Power your business.