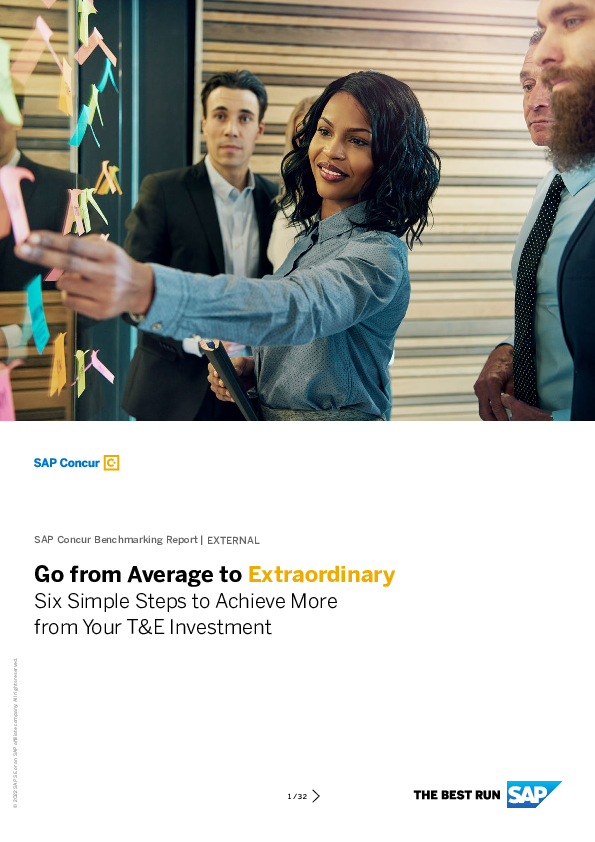 Client: Concur Tech(UK)Ltd
Format: Report
Size: 2.43 MB
Language: English
Date: 31.01.2023
SAP Concur Benchmark Report: Go from Average to Extraordinary
Six Simple Steps to Achieve More from Your T&E Investment
Small changes can reap big rewards, especially when it comes to Travel and Expense (T&E). Whether your business has implemented a digital-first approach, returned to business travel or is navigating hybrid working models, new spend behaviours are pushing the boundaries of traditional T&E management.
This Benchmarking report takes a look at the stages of a typical expense process and highlights best practice blueprints that gives you an indication of:
• If your business is under or overperforming when it comes to automated spend management
• If you are utilising your existing investments
• What benefits you could gain from investing further
By measuring the performance of your T&E process across the business, and then comparing that to our best-performing customers, we can identify ways to optimise your processes so you can be confident you're getting the most out of your solution and achieve more with automation.
Download the benchmarking report today to discover the tools and tricks that push your business towards best-in-class spend management.