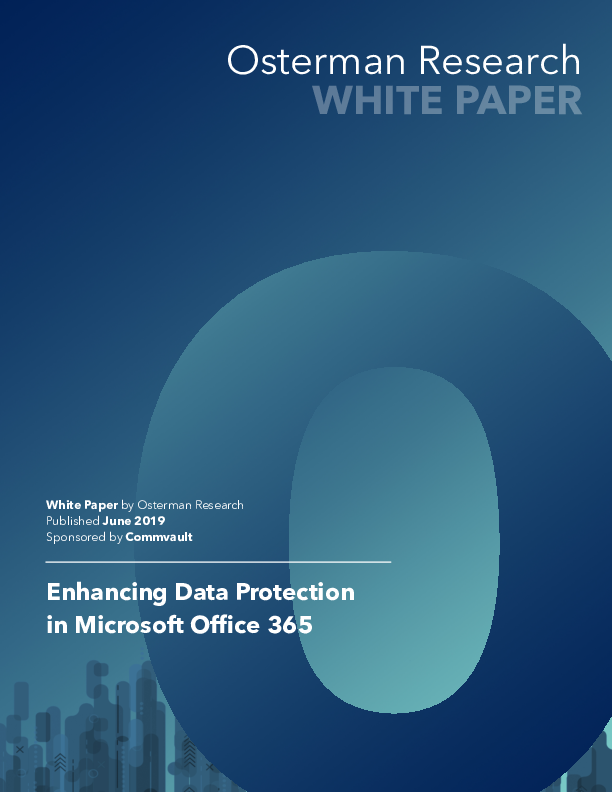 Client: Commvault Systems Ltd
Format: Whitepaper
Size: 2.7 MB
Language: English
Date: 28.08.2019
Enhancing Data Protection in Microsoft Office 365
When decision makers consider moving their users to Office 365, a critical issue that faces them is:
• Will the platform be a complete replacement for all on-premises Microsoft servers and capabilities, or
• Will it merely be an addition to current on-premises capabilities?
Our research, as well as that of many others, indicates that most organizations are largely opting for the former: Office 365 is replacing on-premises deployments of Microsoft Exchange and other on-premises email platforms. While many other platforms will continue to be used, particularly in larger organizations, Office 365 is becoming the leading business email and collaboration tool in the workplace.
While Microsoft offers a solid platform of useful features and functions with Office 365, no platform can be all things to all users, and so decision makers must perform due diligence and determine what Office 365 does well and in which areas supplementary or replacement solutions from third parties will be required. Moreover, there is also the issue of whether the native capabilities in Office 365 provide adequate support for non-Microsoft content sources. Osterman Research holds the view that Office 365 is a solid and robust platform, but that in most cases organizations will want and need to deploy additional solutions to offer better performance or functionality, or to provide necessary functionality for solutions not offered by Microsoft. Plus, as discussed in this paper, the use of third-party solutions can be useful in helping to drive down the cost of an Office 365 deployment.
What follows is a discussion of the limitations within the Office 365 platform that decision makers will want to consider as they decide how to deploy Office 365 in their environment.